Right before I sat down to write this my roommate's cat, who'd followed me into my room, started scratching away at the rug in my room. "No, stop!" I yelled. He seems to understand now, because he backed off. I know it's definitely me just projecting, but I swear to god this cat is so emotive; in that moment, he embodied shame, his small black cat self slinking out of my room like Peter Pan's shadow slipping away from him at all costs. I was annoyed (still am) but then I thought about how cats have scent glands between their toes, and when they scratch they leave their "signature." It might be a destructive action, but that's not the (primary) intent. The point is to be witnessed. Can I really fault him for that most basic instinct?
In a similar vein, last night Noah and I were sitting on our new couch and the cat was curled up on one end dozing off and generally looking adorable. "Imagine being a cat," Noah said. "You could spend your whole day just sitting on one end of a couch and napping and be totally happy." Cats don't need a huge amount of space, but when you confine them and they know there's more out there, they freak out. Or at least this one will—the other day, I was working on my fire escape with the window open, meaning that the cat had to be locked in my roommate's room so he didn't get out, and when I passed by her room to go to the bathroom I could hear him making some of the most sad and desperate sounds I've ever heard. So I ran back to my room, shut the window and let him out to roam once more.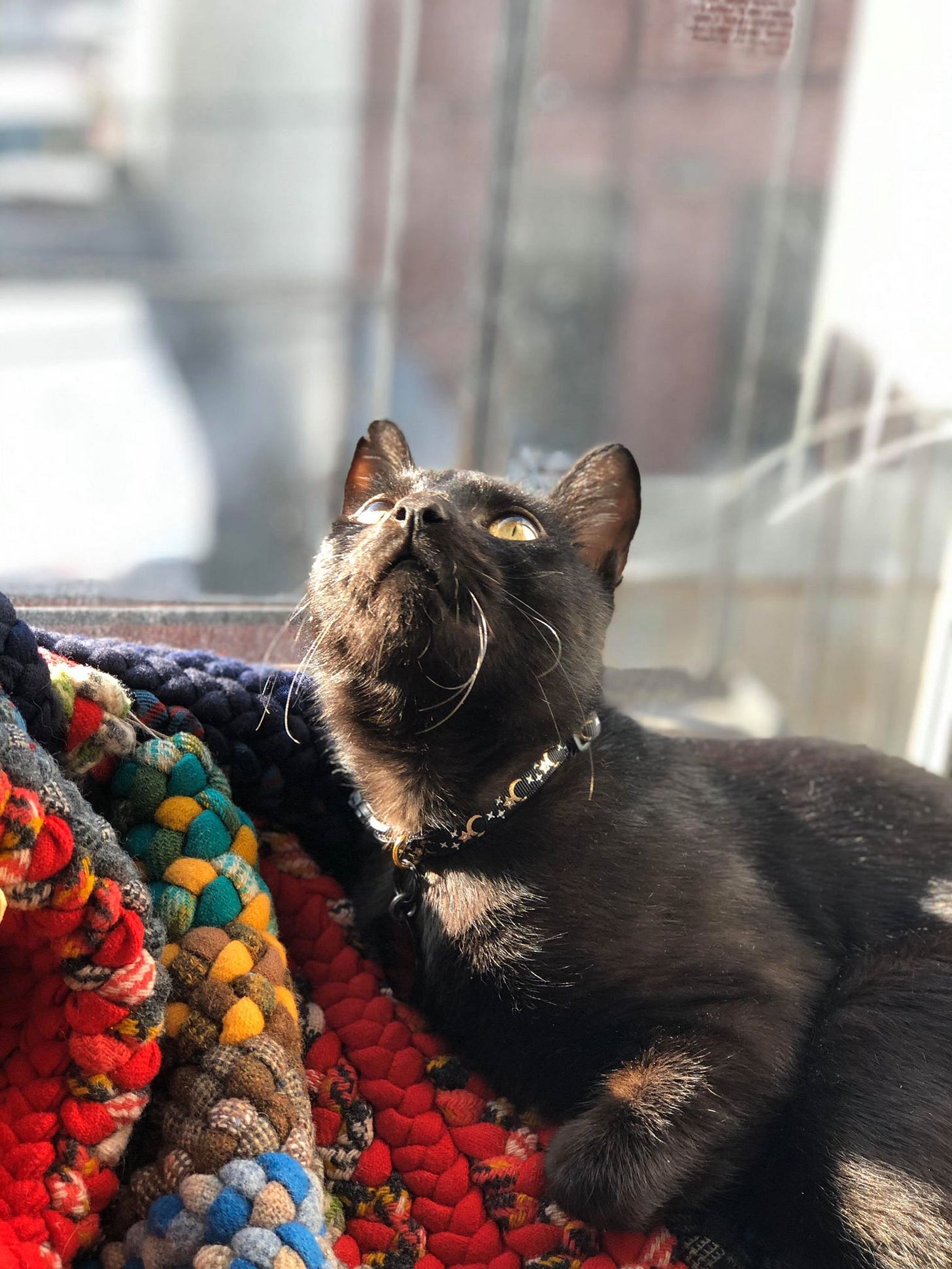 The other day, I read about a man in Missouri breaking quarantine and taking his daughter to a dance. Rationally, a very stupid and dangerous decision all things considered, but I would be lying if I said that I didn't get it, and I'd be lying if I said that that didn't get to me a little bit. Of course in times like these you want to pretend like everything is fine, especially to your children, especially when none of the adults know what to do either. Of course in times like these sometimes all you can do is dance.
Tuesday was the last time I was at my office, right off Union Square, and it was sunny and beautiful so the park was filled with people—many of them regulars, many of them probably tourists merely passing through, parents with children in tow, skateboarding teenagers, an English guy wearing a Naruto headband and screaming about how they changed the Doctor's gender in Doctor Who. (Sometimes I really can't believe getting to witness people in Manhattan is free.) There was a man strumming a guitar and letting people freestyle over his playing, and the Buddhist drum circle with people clad in bright orange robes chanting and generally contributing to the cacophony, and I thought about how one thing I've always loved and will always love about New York is that it's filled with music at all turns. I got two spicy potato soft tacos from the nearby Taco Bell, ate them on a bench and tried to stave off the feeling that moments like these would be considerable rarities in the immediate future.
I was on the phone with my mom yesterday, a woman who's worked for the largest hospital in Los Angeles for almost 30 years and who's worked from home for the past nine. Of all the people I know, she's probably the most well-informed and well-equipped person to deal with this. Also she's my mom. We discussed the possibility of me coming home for my brother's high school graduation in June (and I mean, now is really the best time to buy plane tickets if you want to think about it that way), and I said that she might want to consider purchasing flight insurance just in case things aren't back to normal by then. I really expected her to push back on that and tell me that of course things would be back to normal, that everything is going to be alright. But she said I had a good point, and that she'd let my dad know. In that moment, it sunk in for me that we are really, truly in unprecedented territory right now. As a child I was terrified of the large earthquakes that seismologists have been saying for years are inevitable in California, but at the very least all the adults in my life had been through the '94 Northridge Earthquake before. Thankfully, none of the adults in my life have been through a global pandemic before, but also, holy shit none of the adults in my life have been through a global pandemic before.
To be honest, I'm not really sure what I'm trying to do here. I guess what I mean to say is that I've felt this great sense of being unmoored for some time now, which I think is a pretty typical post-grad feeling, but also nothing about the world we live in right now is typical. I went on a Twitter hiatus for a bit, thinking I'd stay offline all of Lent, but I've been back on in the hopes that it might help make me feel more connected to others while I work from home for an indefinite amount of time. But Twitter doesn't help quell my anxiety, nor is it conducive to really mulling things over like I'm able to do here. Maybe if anything good comes of this forced semi-isolation for god knows how long (other than slowing the transmission of coronavirus, of course), it'll be that I'll be forced to get really comfortable with myself and my thoughts.
At the very least, I've got the cat with me.